THE HOW OF HAPPINESS INTERVIEW WITH SONJA LYUBOMIRSKY, PH.D.
On June 20, 2008 we had a wonderful interview with Sonja Lyubomirsky, Ph.D. about Happiness and her new book, The How of Happiness.
To receive a recording of the interview, submit your name and email address here:
For information on The How of Happiness, click here.
About Sonja Lyubomirsky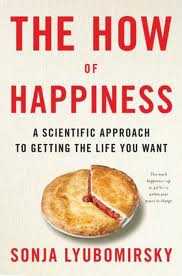 Sonja Lyubomirsky, Ph.D., is Professor of Psychology at the University of California, Riverside. Originally from Russia, she received her A.B., summa cum laude, from Harvard University and her Ph.D. in Social/Personality Psychology from Stanford University. Lyubomirsky currently teaches courses in social psychology and positive psychology and serves as the Department of Psychology's graduate advisor. Her teaching and mentoring of students have been recognized with the Faculty of the Year and Faculty Mentor of the Year Awards.
In 2002, Lyubomirsky was awarded a Templeton Positive Psychology Prize. Currently, she is an associate editor of the Journal of Positive Psychology and (with Ken Sheldon) holds a 5-year million-dollar grant from the National Institute of Mental Health to conduct research on the possibility of permanently increasing happiness. Her research has been written up in dozens of magazines and newspapers and she has appeared in multiple TV shows, radio shows, and feature documentaries in North America and Europe. She has lectured widely to a variety of audiences, including business executives, life coaches, retirees, students, and scholars.
In her work, Lyubomirsky has focused on developing a science of human happiness. To this end, her research addresses three critical questions:
1) What makes people happy?
2) Is happiness a good thing?
3) How can we make people happier still?
For example, she is currently exploring the potential of happiness-sustaining activities - for example, expressing gratitude, doing acts of kindness, visualizing one's "best possible selves," and reflecting on happy moments - to durably increase a person's happiness level. She has been conducting research on happiness for 18 years and has published widely in the area.
Lyubomirsky lives happily in beautiful Santa Monica, California with her husband, Peter Del Greco, and their two children, Gabriella and Alexander.