Hello and welcome to MentorCoach.

If you are a helping professional, you're probably concerned about whether your skills and experience can successfully translate to the field of coaching. In a word, yes, providing you select a coach training program that builds on your present knowledge base and achievements. We provide state-of-the-art coach training infused with the science of positive psychology.

I'm confident that MentorCoach is the best of all coach training programs for helping professionals, and I invite you to investigate this website and decide for yourself.

Sincerely,

Express Links: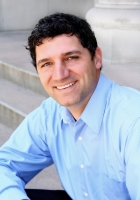 A New Master Class
Make Your Job a Calling
Helping Clients Change Their Lives at Work
Through the Science and Practice of Vocation
Led by Bryan J. Dik, Ph.D.
Associate Professor of Psychology at Colorado State University
7 Thursdays at 1:00 pm Eastern
Starts 10/29/15
Coaching TeleWorkshop with Ben Dean, Ph.D.
Includes practical material you can use right away, and a virtual drawing for a full $2000 tuition fellowship to the Foundations Training Program. Bring all questions.
Thursday December 3, 2015 • 7:00-8:59pm Eastern

Click here to register.
Interview with Barry Schwartz, PhD
Join Ben for a question-and-answer call with Barry Schwartz, PhD, Dorwin Cartwright Professor of Social Theory and Social Action at Swarthmore College, and author of 9 books, including The Paradox of Choice and newly published Why We Work.
December 4, 2015
1:00 pm to 2:00 pm Eastern (New York time)
Online registration coming soon!
Interview with George Vaillant, M.D.
On October 30, 2015, we had a question-and-answer call with George Vaillant, MD, eminent Harvard Professor of Psychiatry, long-term Director of the Harvard Study of Adult Development, and author of 9 books, including Triumphs of Experience: the Men of the Harvard Grant Study.
TO RECEIVE THE RECORDING: Click here
MentorCoach Conference 2016
You Are Invited to the
MentorCoach® Conference 2016
Practical Positive Psychology
Finding New Ways to Change the World
Bethesda Marriott * April 8-10 * Bethesda, MD

MentorCoach and Positive Psychology

MentorCoach passionately believes that Positive Psychology will be one of the key forces in coaching. We have been involved in Positive Psychology since 2003 and it is a strong piece of all we do. We are focused on applying Positive Psychology in your coaching, work, and life with the largest email newsletter in coaching and regular interviews with thought leaders in coaching and positive psychology. MORE
MentorCoach
ICF Accredited Coach Training
MentorCoach offers an International Coach Federation (ICF) accredited coach training program that prepares helping professionals from a variety of occupations to meet their coaching career goals.
Using the coaching skills and knowledge acquired in our coach training program, consultants, managers, therapists, human resource professionals, psychologists, counselors, educators, and other helping professionals have gone on to develop successful businesses in many different areas within the field of life coaching. MentorCoach alumni are now coaching in a variety of areas, including life coach, professional coach, personal coach, positive psychology coach, business coach, executive coach, corporate coach, retirement coach, wellness coach, and more.

MentorCoach Foundations
Coach Training Program
The MentorCoach Foundations coach training course is the keystone of our ICF accredited coach training program, and is carefully crafted to provide you everything you need to make headway in a coaching career. MCP Foundations (which can be taken for continuing education credit) is taught in teleconference by a faculty of successful senior coaches and outstanding teachers, who are knowledgeable, personable, and supportive professionals.
A Foundations workbook and access to coach training materials in the student section of our website are provided to all participants. In addition, Foundations also includes free coach training support groups with senior coaches, live monthly coaching calls, and regularly scheduled interviews with leaders in coaching and Positive Psychology.
Hear MentorCoach founder Ben Dean lead a one-hour session introducing a group of professionals to coaching. Just click here. Or download mp3 here.
MentorCoach®
4400 East West Highway, #1104
Bethesda, Maryland 20814
Voice: 301.986.5688 Fax: 301.913.9447
Email: Info@MentorCoach.com