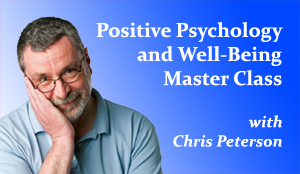 Welcome to The Positive Psychology and Well-Being Master Class
By Recording
With Christopher Peterson, Ph.D.
You can be a fly on the wall, listening to this entire, extraordinary class by recording. Since during the large class of 150 students from eleven nations, students listened to the class by phone, you can have virtually the same experience now.
You will have full access to:
The Recordings of all eight Master Class Lectures, many running over an hour as Chris stayed on the line to take all questions. You can listen to the class on your computer (streaming audio) or download it to an mp3.
Chris' power points for every lecture in color, black and white, or in handout form;
Chris' extensive lecture notes for every lecture;
Live links to the assigned articles for every class;
Readings;
Links to Chris' relevant Psychology Today Blog Entries;
Links to other blog posts and articles on the web;
Links to videos, etc.
People loved this class. If you would be interested in mastering the latest in positive psychology practice and research, taught by a brilliant, funny, award-winning teacher and founder of the field, here's what to do:
To Take This Class By Recording.
The tuition for this course was originally $595-$695. The tuition for Chris' class by recording is $395.
As you register, you'll be asked to agree to protect the confidentiality of the Chris' class' website, recordings, PowerPoints, lecture notes and other class materials. They are only for your use. Please don't register unless you intend to protect the class' confidentiality.
Within a day of your registering, we will provide you with your unique username and password to the class where you'll receive all of Chris' PowerPoints, lecture notes, PDF articles, and recorded lectures. It's a wonderful class. You're in for a treat.
If you have any questions, feel free to contact MentorCoach at info@mentorcoach.com or 301-986-5688.
Warm regards,
Ben
Ben Dean, Ph.D., MCC
President/Founder
MentorCoach
4400 East West Highway/Suite 1104
Bethesda, MD 20814
info@mentorcoach.com
301-986-5688