About Robert A. Emmons, Ph.D.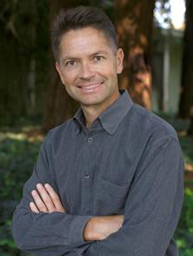 Robert Emmons is the founding editor and editor-in-chief of The Journal of Positive Psychology. Widely regarded as the world's foremost expert in the study of gratitude, Dr. Emmons was one of the early pioneers in the positive psychology movement. He continues to be a key leader.
His newly released, Thanks! How the New Science of Gratitude Can Make You Happier is drawing strong reviews and his extensive research has been featured in dozens of popular media outlets including USA Today, U.S. News and World Report, Newsweek, Time, NPR, The Paul Harvey Show, The Dr. Laura show, The Osgood Radio Files, and Reader's Digest.
He is also the author of nearly 100 original publications in peer-reviewed journals or chapters and has written or edited four books, including The Psychology of Ultimate Concerns (Guilford Press) and The Psychology of Gratitude (Oxford University Press).
Dr. Emmons Ph.D. is currently a Professor of Psychology at the University of California, Davis. He is Past-President of the American Psychological Association's Division 36, The Psychology of Religion. His research focuses on personal goals and purpose, spirituality, the psychology of gratitude and thankfulness, and subjective well-being.
Dr. Emmons has received research funding from the National Institute of Mental Health, the John M. Templeton Foundation, and the National Institute for Disability Research and Rehabilitation. He received his Ph.D. degree in Personality Psychology from the University of Illinois at Urbana-Champaign, and his Bachelor's degree in Psychology from the University of Southern Maine.
TUITION:
Course ...$595 Optional CEU Fees $65

Bob Emmons Interview with Ben Dean
On December 28, 2007, MentorCoach Founder and President, Ben Dean interviewed Dr. Emmons, leading positive psychology researcher and author of the new book Thanks! Catch up on the latest evidenced-based practices in positive psychology coaching. Listen to this interview.