Becoming an Artist With Goals:
Using the New Motivation Science to Help Your Clients (and Yourself) Overcome the Real Obstacles to Success and Lasting Change
Taught by Heidi Grant Halvorson, Ph.D.
Author of Succeed: How We Can Reach Our Goals
Social psychologist & Member of the Board of Advisors for the Motivation Science Center, Columbia University Business School
8 Classes of 60 minutes
Dates TBD
Tuition: $595 (plus optional $75 for CEs)

To hear Heidi's fantastic 80-minute interview with Ben on Friday, May 20, 2011, click here.
To hear Heidi's 60-minute q&a call
fielding questions about this class, click here.
Who Should Attend?
Anyone looking to be more successful reaching their own goals, or interested in helping others to be more effective in reaching theirs.
Too often, we know what we want to do, but not how to do it -- how to turn our knowledge and desire into action. Each of us knows the frustration of working with someone to put them on a path to positive change, only to watch them fail to actually walk that path. Perhaps you, too, have struggled to make changes in your own life. After all, who hasn't?
This science-based approach to making lasting change will be profoundly useful to coaches, counselors, therapists, managers, leaders, parents, and anyone else concerned with showing others how to reach their fullest potential and greatest well being.
In this course, you will learn strategies that will not only empower you to help others, but will also enable you to more effectively reach your own personal and professional goals.
What You'll Learn Each Week:
Week 1: The Goal Saboteurs: Why our intuitions about why we succeed or fail are usually wrong, and the real pitfalls of goal pursuit.
Week 2: Specificity, Difficulty, & Realistic Optimism: What to do when setting a goal to make you much more likely to reach it.
Week 3: Mindsets: Why the way we think about our goals matters. Part 1: Do you want to be good or get better? (performance vs. learning goals)
Week 4: Mindsets: Why the way we think about our goals matters. Part 2: Do you want to go for gains or avoid losses? Do you want to be loved or feel safe? (promotion vs. prevention goals)
Week 5: A Simple Plan: Why if-then planning is the single most effective strategy you can use to reach any goal.
Week 6: Building the Willpower Muscle: Why self-control operates like a muscle, what that means for how we should use it, and how we can get our hands on some more of it.
Week 7: Perseverance and Grit: Most people give up way on themselves way too soon. Learn how to cultivate grit and hang in there long enough to make lasting change.
Week 8: Giving Feedback that Motivates: Even well-intentioned feedback can backfire. (In fact, it frequently does.) Learn how to phrase criticism and praise in ways that support autonomy and fuel motivation, while providing the honest assessment they need to develop and improve.
What You'll Get Out of This Course:
You'll be knowledgeable about the latest, most cutting-edge research in one of the most exciting areas of psychology: motivation science. This is expertise that is in demand in organizations across the country and around the world.
You'll learn the true causes of success and failure, and understand why you may have been successful in reaching some goals, but not others. (More importantly, you'll learn what you can do to change that once and for all.)
You'll discover practical, simple, and easy to use strategies that have been proven effective in diverse populations for reaching professional, relationship, health, and life goals.
You'll understand why not every strategy is effective for everyone, why some strategies feel right while others don't, and how to identify what will work best for you and for those you are trying to help.
You'll master the art and science of giving feedback - feedback that does exactly what you want it to do.
You'll learn how to bridge the gap between desire and action. Setting goals is not enough. Being committed to them isn't enough either. Defeating the goal saboteurs is all about strategy -- how we set goals, how we pursue them, how we handle obstacles when they arise. This course will teach you the strategies you need to make success happen.
And if you ever lead workshops on goals? I promise you you'll have new, exciting material your audience has not heard of.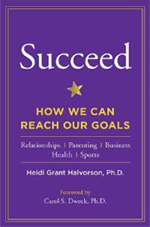 Textbook
The textbook for the class is Heidi's latest book, Succeed: How We Can Reach Our Goals.
To order the book, click here.
It is a great book. I've got it both in hardback and on my Kindle.
Continuing Education
Graduates of this class will be able to earn eight hours of CEs for social workers (NASW) and Marriage and Family Therapists in California (BBS). Please note these CEs are relevant only for licensed mental health professionals in the United States. If you are not a licensed mental health professional in the US, you do not need these CEs and you should not pay the CE fee.
Attendance Requirement for CEs. Before paying for CEs, please note the attendance requirement! You must be present--actually listening on the phone, real time--for seven of the eight classes. To document their live attendance on each call, students email in the class attendance codes (given at the start and end of the class) within 24 hours of end of Heidi's lecture.
International Coach Federation. There will also be 8 hours of coach continuing education credits for members of the International Coach Federation. You do not need to pay the CE fee for coach continuing ed credits.
Certified Mentor Coach. The class will also count toward MentorCoach and ICF Certification for MentorCoach students. Again to qualify, you must be present ("live") for 7 of the 8 calls. Again, you do not need to pay the CE fee for coach continuing ed credits.
About Heidi Grant Halvorson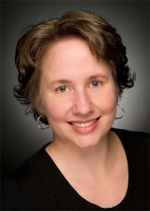 Heidi Grant Halvorson, Ph.D., is a leading scholar and gifted teacher in the field of goals and motivation.
Her most recent book Succeed: How We Can All Reach Our Goals (Penguin-imprint Hudson Street Press, 2010) has received terrific reviews.
She is an Expert Blogger for Fast Company, The Huffington Post, and Psychology Today, as well as a regular contributor to the BBC World Service's Business Daily, the Harvard Business Review, and SmartBrief's SmartBlog on Leadership. Her writing has also been featured on CNN Living and Mamapedia.
In addition to her work as author and co-editor of the highly-regarded academic book The Psychology of Goals (Guilford, 2009), she has authored papers in her field's most prestigious journals, including the Journal of Personality and Social Psychology, Journal of Experimental Social Psychology, Personality and Social Psychology Bulletin, European Journal of Social Psychology, and Judgment and Decision Making.
She has received numerous grants from the National Science Foundation for her research on goals and achievement. Her work has been praised by Carol Dweck and Matthew Kelly, among many others.
She received her B.A. in psychology, summa cum laude, from the University of Pennsylvania, and earned her doctorate at Columbia University, specializing in goal pursuit and motivation. Her research has focused on understanding how people respond to setbacks and challenges, and how these responses are shaped by the kinds of goals they pursue. She has published papers on topics ranging from achievement and self-regulation, to person perception, persuasion, and well-being.
Most recently on the psychology department faculty at Lehigh University, Heidi is passionate about the importance of understanding goals and using them in a powerful way. She spends much of her time talking and writing about motivation science, and trying to help people understand how they can use the science of motivation in their own lives.
Praise for Heidi Grant Halvorson, Ph.D.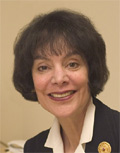 Heidi Grant Halvorson knows just about everything there is to know about setting goals and reaching them. In Succeed, she shares this knowledge with you. She takes all the latest research in psychology, distills it to its essence, and makes it practical. MORE >>
Carol S. Dweck, Ph.D. is the Lewis & Virginia Eaton Professor of Psychology at Stanford University and author of Mindset: The New Psychology of Success.

"SUCCEED succeeds big-time! Rare is a book that is both brilliant and practical, entertaining and rigorous, easy to read and deep. SUCCEED is such a book. If you want to bolster your level of success and in general lead a happier life, this book is for you!" -- Dr. Edward Hallowell, psychiatrist and bestselling author of Delivered from Distraction, CrazyBusy, Superparenting for ADD, and Dare to Forgive.

"Once every ten years or so, someone says something original in the area of personal development. Heidi Grant Halvorson is that someone. If you have ever failed at something or are seeking to accomplish something, Succeed is a must read." -- Matthew Kelly, New York Times bestselling author of The Rhythm of Life and The Dream Manager

"If you have goals, then you should read this book. If you manage others or are in a position to help others achieve their goals, then you have to read this book! It's filled with fascinating studies revealing the secrets of success. But Heidi Grant Halvorson goes beyond the studies to show us how to apply them and save us years of struggle. This book is a keeper." -- Peter Bregman, CEO of Bregman Partners, author of "How We Work", Harvard Business Publishing's most popular blog, and the forthcoming 18 Minutes: Find your Focus, Master Distraction, and Get the Right Things Done. (Business Plus, 2011)
| | |
| --- | --- |
| CLASS CODE: | AWG2 |
| LEADER: | Heidi Grant Halvorson, Ph.D. |
| CLASS TIME: | TBD |
| STARTS: | TBD |
| PREREQUISITE: | Student/Graduate MCP Foundations |
| CERTIFICATION: | Yes. Counts toward certification with MentorCoach and ICF, as an elective. |
| CEs: | Yes, eight hours of CEs (only relevant for licensed mental health professionals in the US). |
| CCEs: | Yes. Counts toward eight hours of Continuing Coach Education (CCEs) with the International Coach Federation (ICF) |
| REFUNDS: | You can receive a 100%, no-questions-asked tuition refund at any time before the beginning of the second class. After the beginning of the second class, you are responsible for your full tuition payment. |
| TUITION: | $595 (+ $75 for optional CEs) |
Copyright 2011, MentorCoach
1-301-986-5688